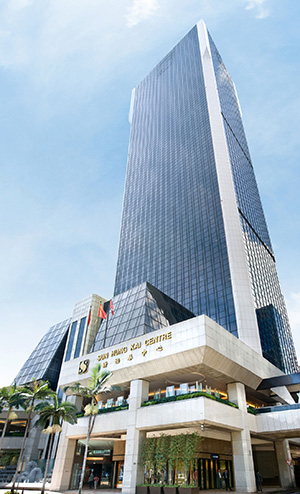 Sun Hung Kai Properties
---
Sun Hung Kai Properties Limited ("Sun Hung Kai Properties") was publicly listed in 1972 and is now one of the largest property companies in Hong Kong. It specializes in premium-quality residential and commercial projects for sale and investment. The Group:
Employs about 37,000 people.
Has in-house expertise in land acquisition, architecture, construction, engineering and property management that allow it to adhere to the highest standards of quality.
Businesses
The Group's core business is the development of property for sale and investment. The Group also has complementary operations in the following property related fields:
Hotels
Property management
Construction
Insurance and mortgage services
The Group also has investments in:
Telecommunications
Information technology
Infrastructure and other businesses
These are low risk investments, which provide growing recurrent income over the long term.
Land Bank & Property Portfolio
The Group is one of Hong Kong's largest landowners with a land bank of 51.8 million square feet (attributable gross floor area) as at the end of June 2017, including:
19.6 million square feet under development,
29.8 million square feet of completed properties for rent / investment,
2.4 million square feet of completed properties pending for sale,
Over 28 million square feet of agricultural land (site area)(1) in the New Territories, primarily along rail lines. The majority of this is in various stages of land use conversion.
Group Finance
The Group is committed to conservative financial policies, maintaining high liquidity and low leverage. The overwhelming majority of the Group's financing is in Hong Kong dollars, and hence carries very little foreign exchange risk. The Group's financial strength is reflected in its foreign currency ratings:
'A+' from Standard & Poor's
'A1' from Moody's
Customer Service
The Group firmly believes that customers come first and it always listens to them through various channels to deliver the best service.
Property management companies - Property management subsidiaries the Hong Yip Service Company Limited and Kai Shing Management Services Limited are recognized for high-quality after-sale service.
SHKP Club - The Group established the SHKP Club to enhance customer service and two-way communication. It currently has over 350,000 members.
Note: (1) Information as at mid September 2017
For further information, please visit: http://www.shkp.com
News Subscription
Get news alerts, offers and other information, please click here.